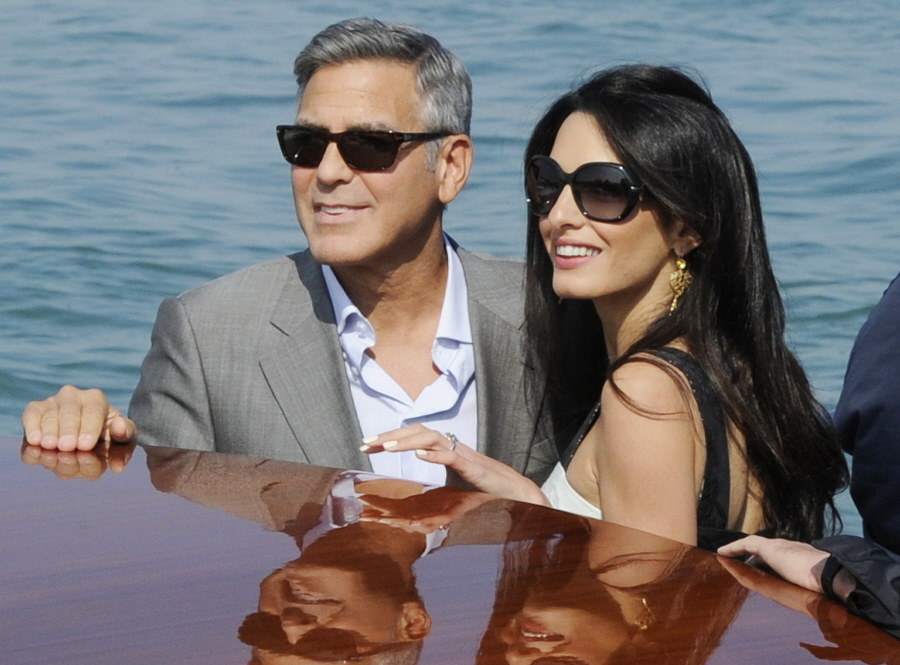 Well, I guess we're not getting photos of Amal's dress! Just yet. But George Clooney's rep has just confirmed that George and Amal have married. Sort of. I mean, they said the vows and all of that, although sources keep saying that the civil ceremony – the official "we're married" ceremony – will be held on Monday. But I'd really like to know how Amal managed to get to today's ceremony without anyone seeing her dress!! What the hell?
Congratulazioni! It's official: George Clooney and Amal Alamuddin are husband and wife. The couple exchanged vows in an intimate ceremony at the Aman Canal Grande luxury resort in Venice, Italy, on Saturday, PEOPLE confirms.

Clooney, 53, in Armani, and Alamuddin, 36, were married by close friend Walter Veltroni, the former mayor of Rome.

The much-anticipated wedding, attended by families and close friends, including Matt Damon, John Krasinski and the Oscar winner's producing partner, Grant Heslov, follows a series of celebratory events leading up to Saturday's nuptials. At sunset on Saturday, crowds cheered along Venice's Grand Canal as Clooney and his guests boated to the Aman hotel in a flotilla of vintage water taxis.

The couple, who obtained their marriage license in August, took a fairly quick journey to the altar. First spotted stepping out together in London last October, they've embarked on a series of romantic, globe-trotting travels, including a trip to Tanzania in March and a getaway to the Seychelles.

But their low-key courtship remained mostly out of the spotlight until Clooney shared the news during a high-profile date night at the Sept. 7 Celebrity Fight Night charity benefit in Tuscany, Italy, that the wedding would soon unfold in Venice.

"I would just like to say to my bride-to-be, Amal, that I love you very much," he told his fiancée from the stage, "and I can't wait to be your husband."

George's wait, at long last, is over.
Will we call her Amal Clooney now? Will they go by the Alamuddin-Clooneys? Who knows? Anyway, I guess it's nice that no one bolted. As I just commented in another post, the ceremony was held at "Twilight" in Venice. Because I guess Amal is a Twihard? Wouldn't that be funny? Amal is totally into Sparkles.
Anyway, congrats to the happy couple! I'm out of here, but if we get photos of Amal's dress, I'll post those photos tomorrow or whenever we get them.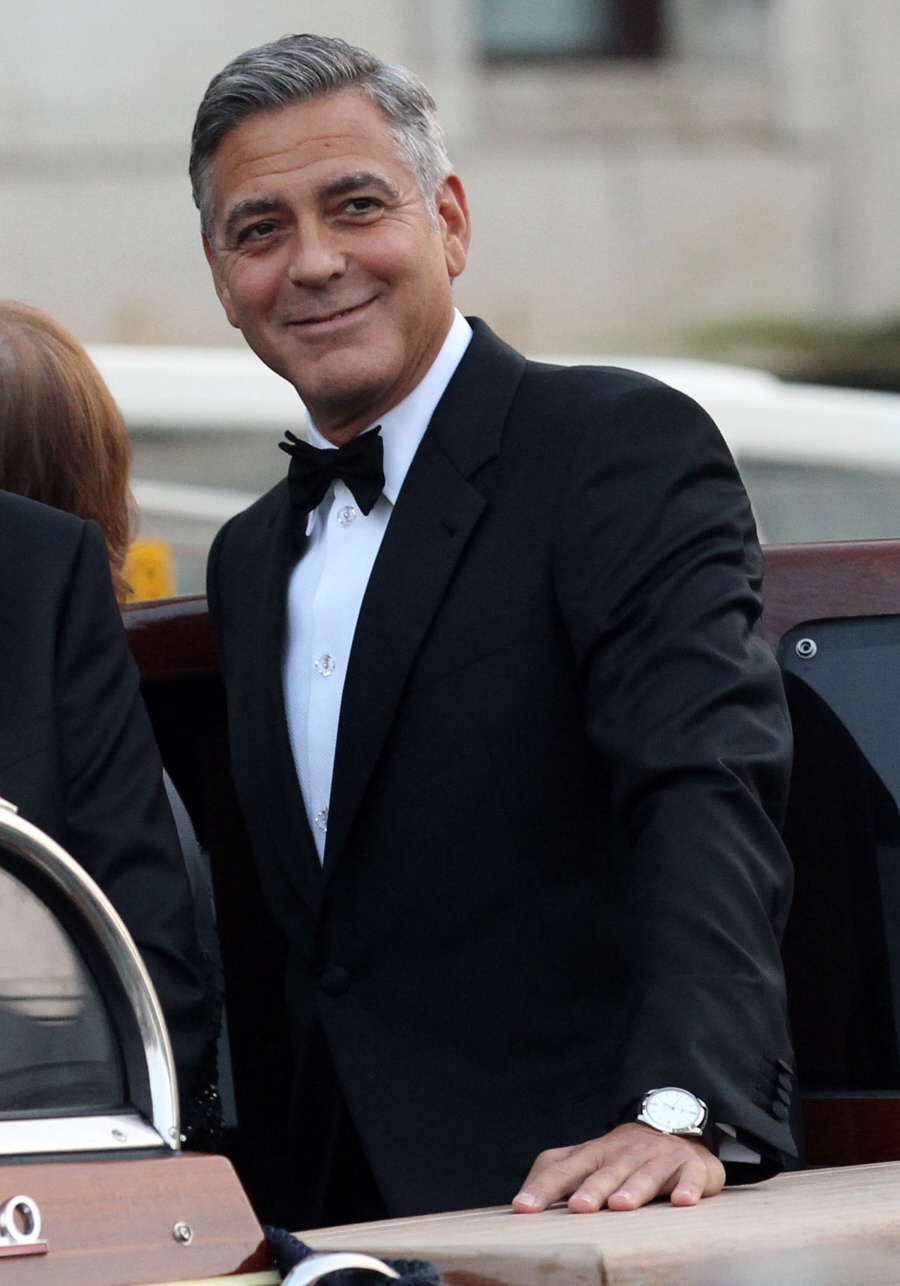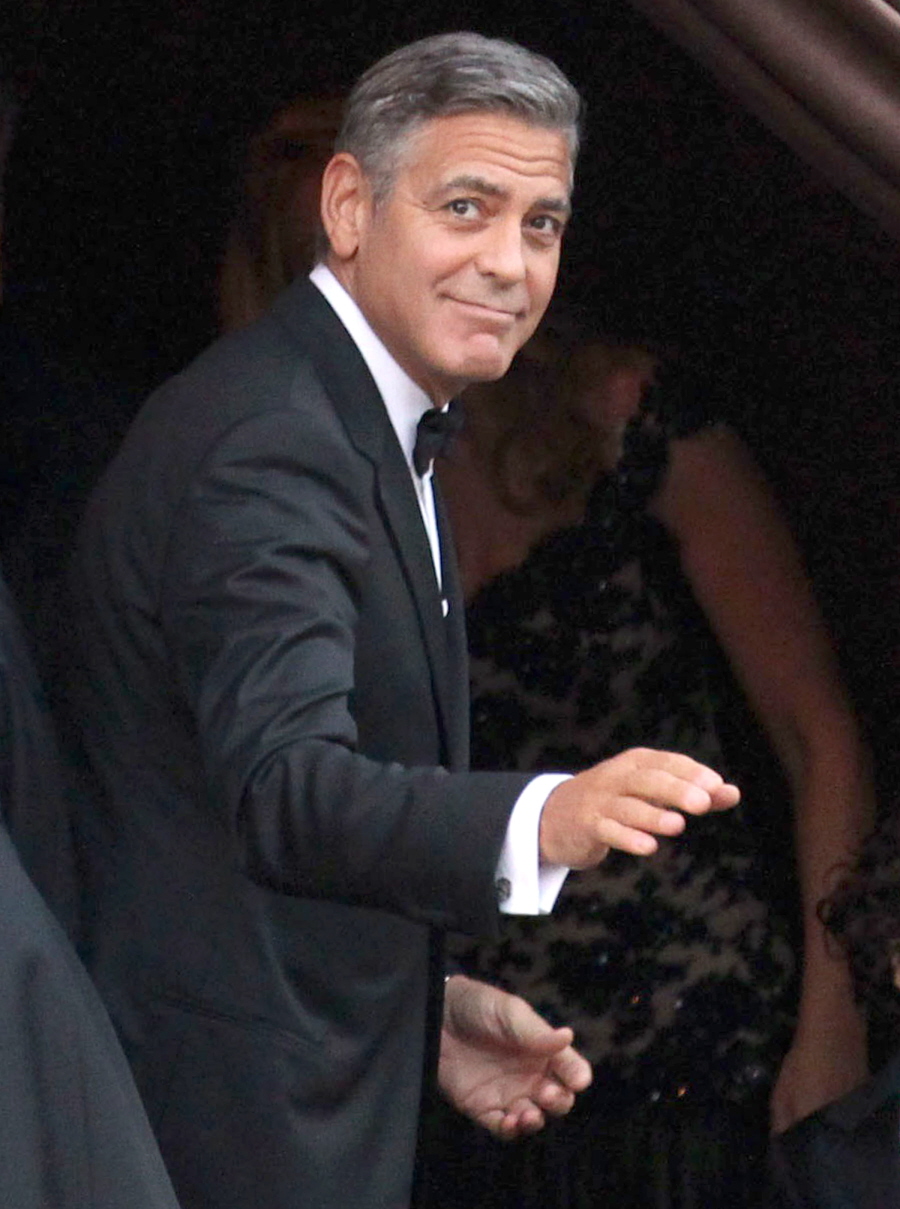 Photos courtesy of WENN, Fame/Flynet.