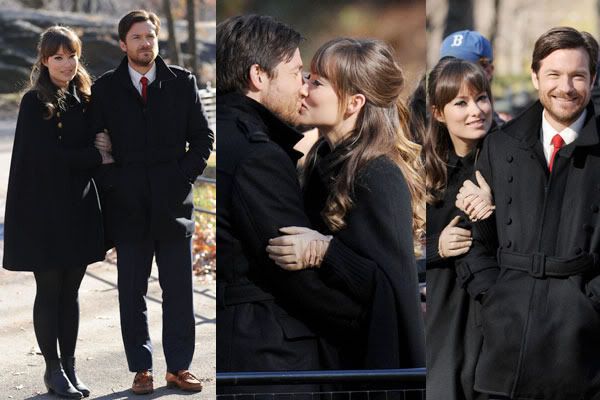 Photo Credit: FAME Pictures
Jason Bateman seemed to be getting along just fine on the set of their upcoming romantic comedy "The Longest Week," which will hit theaters sometime in 2012. The film is actually being produced by Bollywood producer Uday Chopra, so we should expect to see at least one dance number with Jason Bateman & Olivia Wilde waltzing through Central Park.
Besides blessing co-star Jason Bateman with a kiss on the lips, Olivia was spotted grabbing a quick smoke–we don't know whether she was in character or maybe she's taking shortcuts in weight management? Whatever the case, I'm pretty sure she lost a few bastards from her fan club, which is kind of sad if you really think about it since it's widely known that chicks who smoke are 10x wilder behind closed doors than chicks who don't. I forget who commissioned the study, but I'm sure there's some truth in it.
Plot juice from IMDb:
Affluent and aimless, Conrad Valmont lives a life of leisure in his parent's prestigious Manhattan Hotel. In the span of one week, he finds himself evicted, disinherited, and… in love. [Source]
Photo Credit: FAME Pictures
MoeJackson.com – A Delicious Guide To The Celebrity High Life