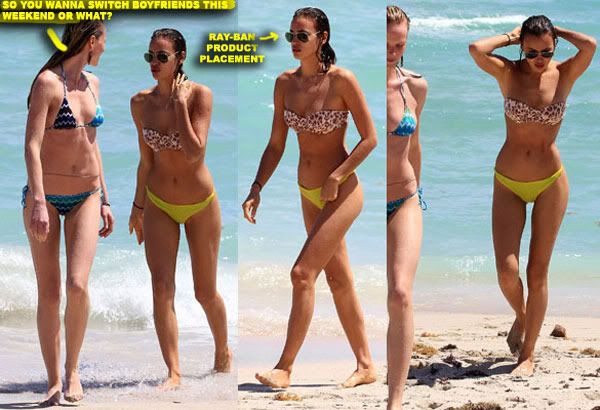 Photo Credit: Splash News Online
Pictured: Anne V & Irina Shayk
We were thinking we'd end the week with Candice Swanepoel, but the Bastardly Bikini Gods had juicier plans. Sports Illustrated Swimsuit models Irina Shayk & Anne V (Vyalitsyna) were strutting their bikini bodies in South Beach earlier today. I feel like they're also in the city to enjoy the final weekend of the 2012 World Music Conference. Both ladies are dating famous dudes with Irina supposedly involved with Cristiano Ronaldo's & Anne enjoying Maroon 5 lead singer Adam Levine.
I don't know about you bastards, but this has certainly been one of the best weeks for bikini-related posts since at least the holidays, so if this is just a sampling of what's coming up in the weeks ahead, the future is definitely bright! Let's review all the sets before we dive further into Irina & Anne's bikini bods.
S.I. Swimsuit Rookie of the Year Nina Agdal Bikini Pics From Miami!
Miami: Bikini-Clad Doutzen Kroes Enjoys The Beach with her Family!
Miami: Michael Bay's Lauren Stoner Rocks Ray-Ban Aviators & a Gucci Belt!
MIAMI: Doutzen Kroes Hits WMC 2012 in a Bikini Top & Short-Shorts!
Maui: Samantha Droke Bikini Pics While On Vacation w/ Carlos Pena Jr.

Photo Credit: Splash News Online
Pictured: Irina Shayk & Anne V

Photo Credit: Splash News Online
Irina Shayk Chillin' on the beach. OW!
MoeJackson.com – A Delicious Guide To The Celebrity High Life